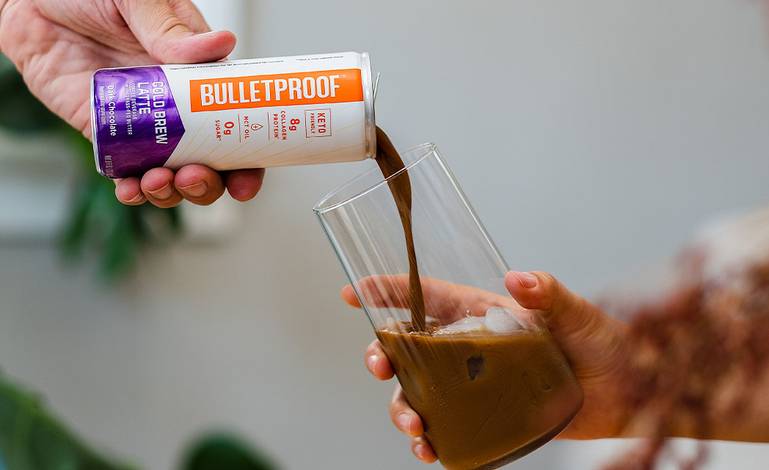 New and improved ready-to-drink Cold Brew Latte, boosted with collagen protein for lasting energy. Keto friendly. With collagen protein, MCT oil and no added sugar,** Bulletproof Cold Brew Latte is whole-body fuel.
Need a quick pick me up? Have no time to brew a cup of Bulletproof Coffee? Caught outside of your home and in need of a creamy, energy-packed snack? Bulletproof Cold Brew Lattes are a delicious, nutritious solution.
Keto-friendly and conveniently sized to travel anywhere, our cold brew lattes come in a handy 8 ounce can, sealed with a BPA-free liner to prevent any potential leaching from occurring. Healthy, light and ready for on the go.
Bulletproof cold brew coffee comes in three delicious flavors:
Original: Our creamy Original flavor is coffee-forward, with a sweet finish and a classic latte taste.
Dark Chocolate: Rich dark chocolate gives this refreshing flavor a light almost mocha taste without being too sweet. Perfect for days you crave chocolate and need a caffeine boost at the same time.
Vanilla: Sweet with a light vanilla flavor, this tasty cold brew coffee is a keto-friendly way to enjoy an iced vanilla latte without the carbs.
Packed with 8 grams of collagen protein in addition to ketone-boosting MCT oil and grass-fed butter, Bulletproof Cold Brew Lattes pack a nutritional punch wrapped in flavor. Try our creamy dark chocolate, vanilla and original flavors today!
**Not a low-calorie food.