Bulletproof Affiliate Program
Earn Money By Joining The Affiliate Network
Who We Are
Bulletproof 360, Inc is a food, supplement, and content company helping people perform better, think faster and live better using a proven blend of ancient knowledge and brand new technologies, tempered by research, science and measured results from our customers, top athletes, and medical professionals.
How It Works
Now you can leverage your blog, website, social media channels, email list, and other audiences to drive sales of Bulletproof products and earn commissions on those sales. Because we provide customers with the best value and service, you will convert more traffic and drive higher revenue. Commissions are a tiered percentage of sales. From protein bars to Bulletproof Coffee to MCT oils, this is an opportunity to share the products you know and love with your audience, and become a valued Bulletproof marketing partner.
We Make It Easy
It's simple to join the affiliate program so you can start to earn additional revenue for your business! We provide the tools you need, including a dedicated team and a user-friendly platform.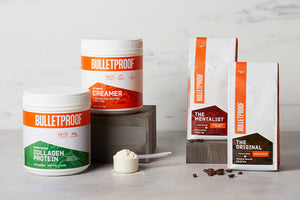 Program Highlights
Competitive commission rates and monthly payments

Product data feed updated daily

Great selection of creative banners and links

Exclusive newsletter with upcoming promotions, product launches, and sales opportunities

Dedicated affiliate management team
Apply Now