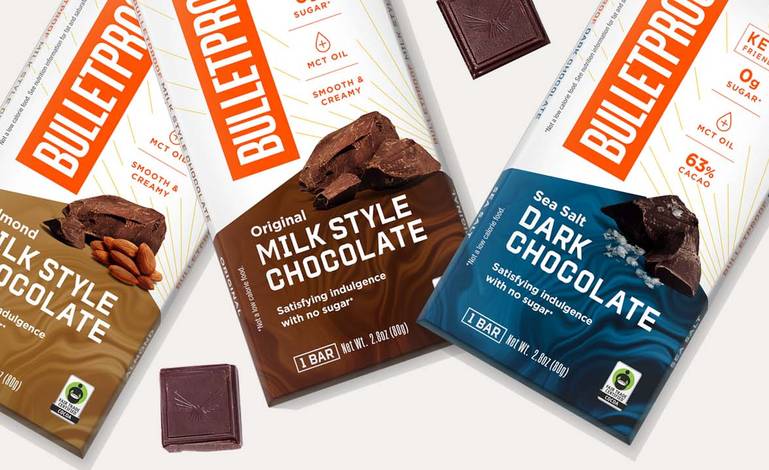 Missing chocolate on keto? Bulletproof keto chocolate bars to the rescue. Our smooth, creamy chocolate is under 2-3 grams net carbs without sacrificing taste.
Smooth, rich and decadent, Bulletproof keto chocolate is a sugar-free* snack that only tastes indulgent. Made with MCT oil and sweetened with erythritol and stevia instead of sugar, our keto-friendly chocolate bars satisfy candy cravings without sacrificing your macros.
At 2-3 grams of net carbs and 0 grams of sugar*, these keto chocolate bars are perfect for the afternoon slump, a midnight snack attack or even the conclusion of a leisurely brunch. Bake with them, create no-bake truffles or enjoy them as they are. However you choose to enjoy our keto chocolate, you can feel good about indulging freely.
Not on a ketogenic diet? Simply watching your sugar intake? These chocolate bars are still for you. We didn't sacrifice taste or satisfaction for sugar, so you can take your chocolate to the next level without losing that sweet, rich experience.
Miss dark chocolate on keto? Our dark chocolate bars balance salty and sweet with rich chocolate and flakes of sea salt. Made with 63% dark chocolate, our keto dark chocolate provides a smooth chocolate taste with the perfect bite of savory salt.
Perfect to enjoy with a cup of coffee, our milk-style chocolate with almonds is a creamy treat you can enjoy freely. Not a fan of tree nuts? Our original milk-style chocolate is a smooth and delicious chocolate bar you'll love as a sweet snack or ingredient in your favorite milk chocolate recipes.
In addition to being delicious and keto-friendly, Bulletproof chocolate bars are Fair Trade Certified™, meaning that you can feel good about purchasing our keto chocolate bars. Our keto chocolate is also gluten-free, non-GMO and free of artificial sweeteners. Just delicious, keto-friendly chocolate that anyone can enjoy.
Try our rich keto chocolate bars today and indulge your sweet tooth freely.
*Not a low calorie food.